We provide rodent control services for Los Altos Hills.
Get in Touch With Us To Stop Mice and Rats In Your Home.
It can be terrifying and disheartening to discover a rodent infestation in your home. Suddenly, you may find yourself needing to sterilize your home, throw out old food, and hunt down small cracks in your walls where rodents may have wriggled in. Not only can this be stressful for you and your family, but it can be time-consuming too. For some people, it may even be difficult to rest comfortably at night knowing that rodents may have found access to your home. 
Why lose sleep over a problem that rodent control experts can handle quickly and easily? Whether you are in need of rat control or mice control, Rodent Control Inc. has you covered. Our team of rodent control specialists has served over 10,000 clients in the Bay Area over the past few years. Additionally, our professionals can offer you emotional support for any distress you may be experiencing after discovering rodents in your yard or indoors. Call us today at (833) 3-RODENT (763368) to schedule an appointment or request a free quote.
Recovering Your Home
Once you've noticed mice or rats inside your home, call your local rodent control professionals right away. Since rodents can multiply rapidly, even a small infestation can quickly become a large problem. The Rodent Control Inc. team always acts fast so that you can regain control of your home as soon as possible. Make your home a safe home again.
If you catch an infestation of mice or rats early enough, there may be very little damage. You may even be able to handle it on your own with a few mousetraps and a bit of rat poison. However, handling mouse traps and poison is not always comfortable, and if you have small children in your home, it can be a dangerous or upsetting experience that may put more stress on you than you would like. If the infestation is large, then it may be too overwhelming to deal with on your own, especially if rodents make their way inside your house.
Fortunately, with the help of a professional rodent control company like Rodent Control Inc., it is always possible to return your house to its former clean, rodent-free state. Our team is trained in several methods of blocking rodents from returning to your home, including the proper way to detect gaps that rodents may have chewed in your walls and the way to seal those gaps quickly and easily. The Rodent Control Inc. team is proud to say that we always treat your home with the utmost care. That's why we always use 100% chemical-free products in the work we do.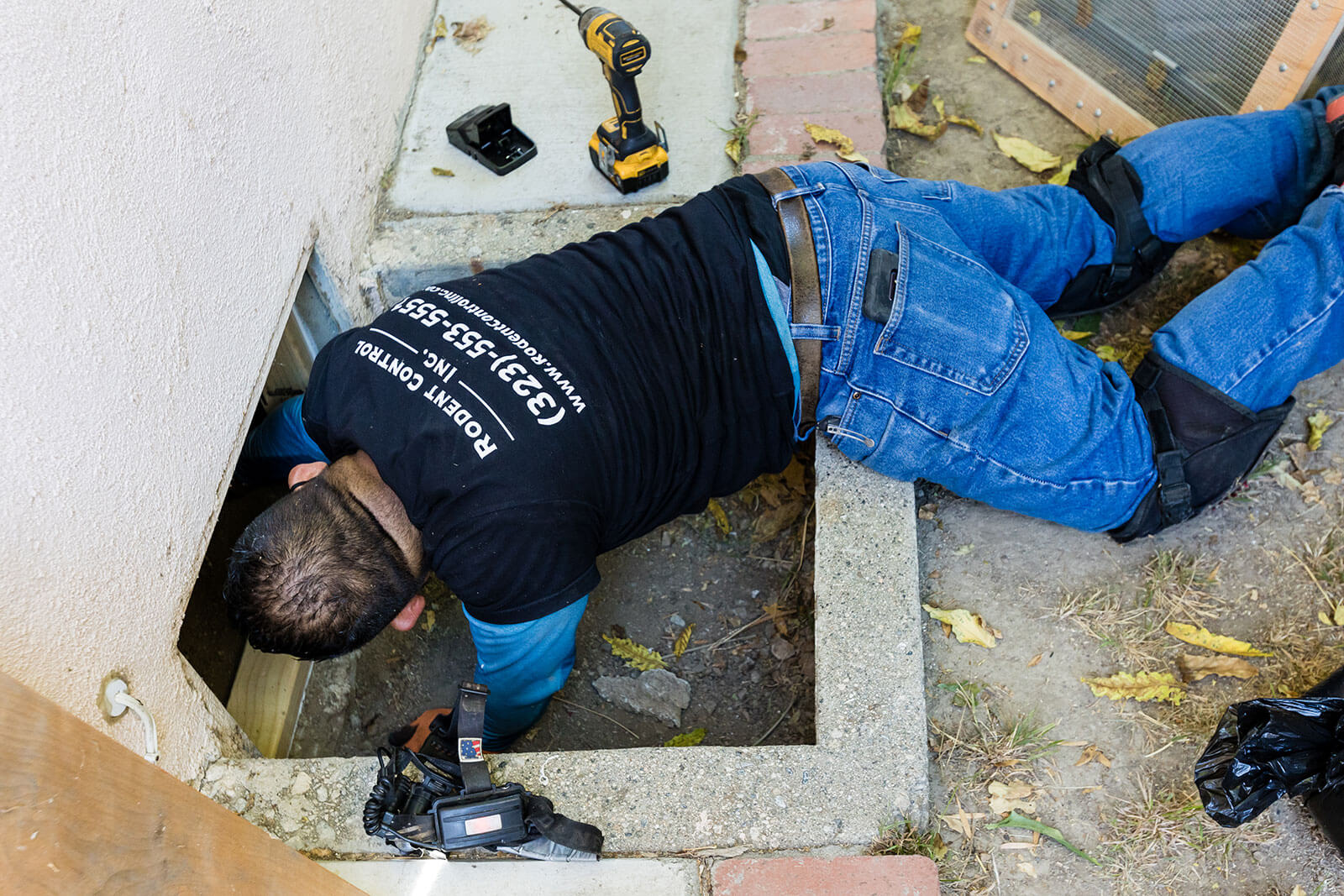 Preparing For the Rodent Control Experts
Preparing for the rodent control experts to arrive at your home isn't always easy. Fortunately, the Rodent Control Inc. team is experienced at working around our clients' daily schedules. It's never enjoyable to have mice or rats in your home, and we pride ourselves on doing our best to make the removal experience as smooth as possible for you and your family members.
Hours
Sunday 6:00 AM  –  8:00 PM
Monday 6:00 AM  –  8:00 PM
Tuesday 6:00 AM  –  8:00 PM
Wednesday 6:00 AM  –  8:00 PM
Thursday 6:00 AM  –  8:00 PM
Friday 6:00 AM  –  5:00 PM
Closed on Saturdays
Before our rat control or mice control team arrives to check out your Bay Area home, here are our tips to help us help your house return to rodent-free normalcy.
Remove Fragile Items
Remove fragile items from the area before our team arrives. If you have glass vases or lamps on the counters, we encourage you to move them to another room. This will prevent any valuable items from accidentally breaking while we work.
Clean the Kitchen
Cleaning the kitchen offers you and your household a clean, healthy place to enjoy meals and family time. When the kitchen is clean, it also helps us perform our work much more easily. In addition to scrubbing down the counters, we suggest:
Removing stray dishes from the counters and moving them to the sink or dishwasher
Unplugging appliances
Checking your pantries to ensure nothing falls out
Replacing light bulbs in pantries or side halls if needed
Removing any bills, boxes, or stray objects from kitchen counters
Moving large furniture or appliances aside
Rodents are drawn to easy sources of food and shelter in the home, which means they will usually nest near your kitchen if they can. If removing tables or refrigerators from the kitchen isn't possible before we arrive, don't stress. The Rodent Control Inc. can help. We will search your home for any signs of infestation (Kitchens, laundry rooms, garages, and small bathrooms are common rooms that may be infested, in addition to workshops or sheds).
Note Any Signs of Rodent Entry
If you have already detected any notable rodent entry points into your home, please point them out to our team, and we will investigate for evidence of further damage. Signs of entry may include chew marks on walls, signs of chewing on food packages in your pantry, or signs of rodent droppings in your home or just outside the exterior walls.
Also, ask about our attic cleaning and attic insulation replacement services. Rodents frequently nest in attic insulation and can leave behind droppings and urine in the process. As part of our work, we will clean old attic insulation and even install new insulation if needed.
Take Pets Out of Main Rooms
Normally, our team will work mainly in the kitchen and neighboring rooms, along with the attic, if you have discovered any signs of rodent infestation there. To allow our team to work most effectively, please keep your pets safely in other rooms or in a neighbor's home.
We love the Bay Area area, but we love it a lot more when we feel assured that your home is rodent-free. Rodent Control Inc. is proud to use 100% chemical-free solutions in all the rodent control decisions we make. When we visit, we will always show your home the utmost care. We
"We went with Rodent Control to help with a mouse/rat that was in our basement and gnawing on all of our stuff. (Protip: don't keep dog food or treats in a basement) Sam is our POC at Rodent Control and has been great and attentive. Can text him and get a response and next steps scheduled. And they follow through. Mouse/rat was caught, hooray!"
"Rodent Control saved the day! I was mortified to have rats in my attic! I was impressed by their prompt responsiveness. From my initial phone call, their customer service has been exceptional. Both on the phone and in the field. They quickly arrived to assess the situation, and were willing to schedule service that week. The field technicians were very professional, thorough, and paid great attention to detail. They closed off all entry points, ensuring a professional and clean look. They cleaned and disinfected the attic, set traps, and arranged the date to come back and check everything. They took care to protect my carpets upon entering the house and performing work. The entire staff was very friendly and accommodating. A huge thank you to Sam and his entire team at Rodent Control!"
"I had a rat in my duplex terrifying my tenants and chewing through water lines causing a mess. Jake and his team saved the day! They sealed up every opening on the perimeter of the building, set traps and released a spray in the basement to eliminate any scent that could attract other rats. These guys don't try to set you up on a recurring monthly plan like most of the bigger corporations will do. They may not be the cheapest but they do the job once and do it right! Nice work!"