Rodent Control Inc. has been proudly serving the Bay Area for years. Why choose us for your rodent control needs? Discovering a rodent infestation at your home can be stressful, and we intend to make the process as easy for you as possible. Calling in pest control can be intimidating. Will the pest control service ruin your yard or spray your home with chemicals? Not us! We treat your home like it's our own and will handle the interior and exterior of your property with the utmost care.
Feeling anxious when you encounter pests near your home, food, and children is natural. That's why at Rodent Control Inc., we strive to answer all your questions about our services and offer any emotional support you and the rest of your family may need. With our all-natural solutions to your rodent troubles (including 100% chemical-free products), you can trust that your home is in skilled, trustworthy hands. Choose Rodent Control Inc. to achieve a better solution for a cleaner, safer home.
Our company is young but growing fast, and we have catered to over 10,000 satisfied clients since we started. You can schedule an appointment with us by calling (833) 3-RODENT (763368). 
Hours
Sunday 6:00 AM  –  8:00 PM
Monday 6:00 AM  –  8:00 PM
Tuesday 6:00 AM  –  8:00 PM
Wednesday 6:00 AM  –  8:00 PM
Thursday 6:00 AM  –  8:00 PM
Friday 6:00 AM  –  5:00 PM
Closed on Saturdays
Rodent Control Inc. – Who We Are
Rodent Control Inc. is a local rodent control service in the Bay Area and a highly-rated one for a good reason. We believe that controlling pests goes much more smoothly when you understand the creatures you are working with. All our staff is well-educated on the rodents we deal with and are trained to handle them quickly, professionally, and safely. Since rodents multiply quickly, it's crucial to handle an outbreak as soon as possible. This is why we don't delay treating your rodent problem. Our team will arrive at your home as soon as we can.
When we visit your home, we customize our pest control plans just for you and your specific pet situation. Request a quote by filling out the form on the Rodent Control Inc. home page.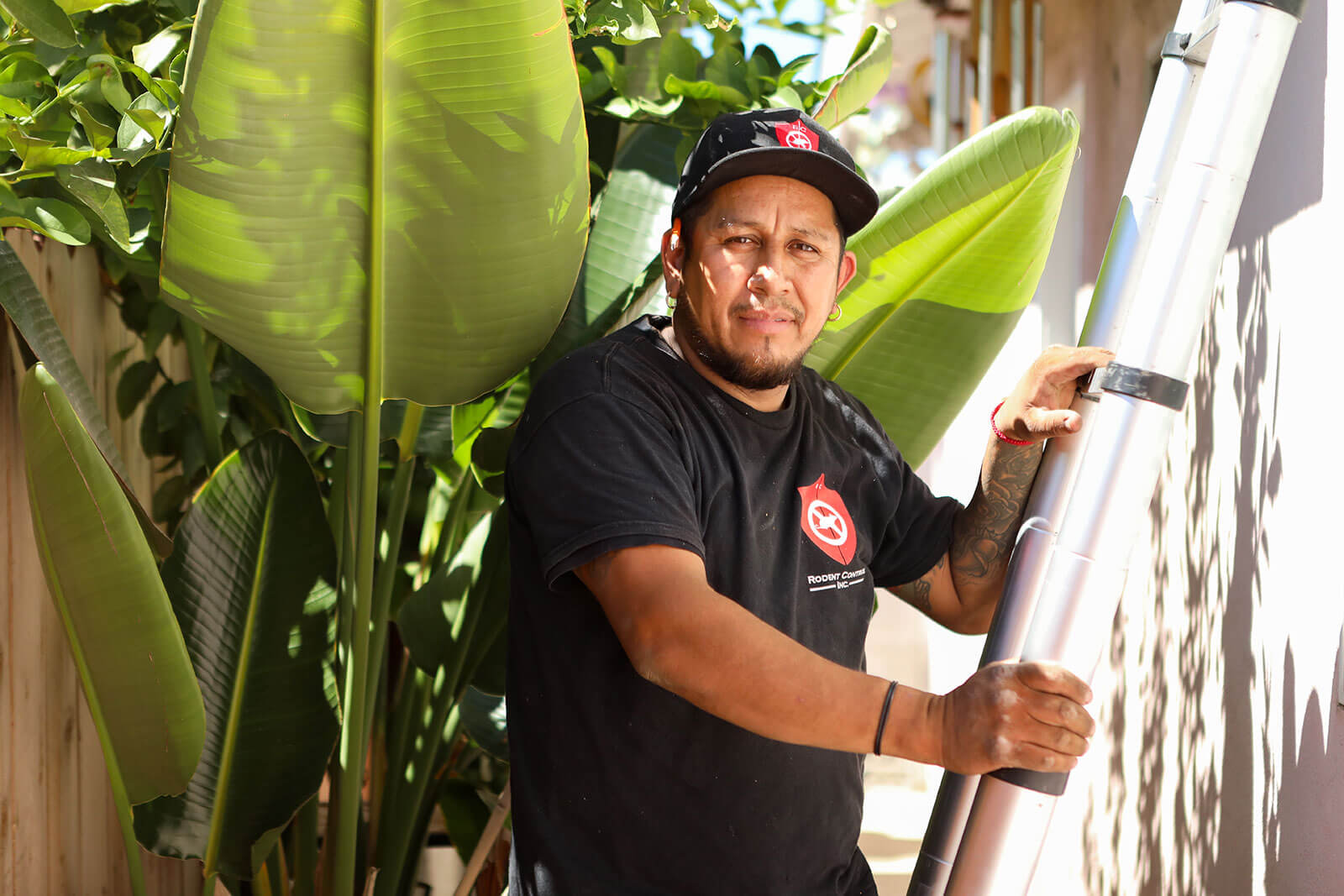 The Risks of Sharing Your Home with Rodents
In addition to the foul smells, shed hairs, and messy droppings that any pet rodent can cause, there are many risks to sharing your home with unwanted rodents. These include:
Disease
Rodents can carry diseases that can be transmitted to other animals (such as your pets) and to humans in multiple ways. If you are bitten by a rat, touch rat feces, are exposed to urine from an infected rat, or if a rat comes in contact with the food you eat, then you may be in danger of infection yourself.
Bites
Rodent bites can also transmit diseases, including Hantavirus and Leptospirosis. Even the saliva of the rat can be dangerous. We encourage you not to interact with wild rodents on your own. Leaving the pest control work to the professionals will ensure the removal experience goes smoothly for everyone.
Multiplying
It's crucial to invest in rat control as soon as possible. Rats and mice are prey animals and have evolved to multiply rapidly. A female rat comes into heat every week, carries her young for less than a month, and can come into heat again within 48 hours of giving birth. In some species, every litter can contain up to a dozen rat pups. Mice reproduce at a similar rate, meaning that mice control is equally important. A female mouse is capable of reproducing as young as six weeks. Even a seemingly small infestation of rats or mice can rapidly grow out of hand. If you come across rat droppings or signs of nesting, then call in the rodent control professionals for quick and easy removal.
A Multifunctional Company
In addition to rodent control, Rodent Control Inc. can also provide additional related services for your home.
Rodents, insects, and other unwanted pests can easily make their homes in old attic insulation. As part of our work, our expert team will clean away any traces of bacteria in your insulation, as well as any gaps where insects or rodents may be able to squeeze through and gain entry to your home. If any rodents have made a nest in your insulation, we will remove them and any trace of urine or droppings we find.
While we check your walls, we will also notify you of any damage to wooden beams or electric wiring we find so you will be able to make an informed decision about what to do next.
While we're here, ask our experts for a free attic insulation inspection. Our team doesn't just clean the bacteria from old insulation, but we can also safely remove the old and install brand new insulation in its place.
Preventing Rodents In Your Home
We love being the Bay Area rodent control company, but we also know you would be much happier if we didn't make a return visit to your home. Here are our best tips on how to prevent rodents from making your home their own.
Avoid Leaving Exposed Food In Your Home
Rodents will settle anywhere they can find shelter and easy access to food. They especially love fruits, nuts, seeds, and meat. They aren't picky, however, and will also chow through cereal, bread, and vegetables that are left exposed on your counter. If you are concerned you may have a pest problem, consider moving your cereal from cardboard boxes into plastic containers.
In addition to human food, rodents will also devour pet food. Avoid keeping your pet food in a bowl on the porch. Instead, move it indoors and consider storing it in a bin or automatic feeder. Not only will this help to prevent rodents from gaining easy access to pet food, but it will prevent squirrels, chipmunks, birds, raccoons, and other animals from eating your pet's food too.
If rodents have invaded your home, then the health of you and your family could be at risk. Choose an expert rodent control company like Rodent Control Inc. today. Our Bay Area team will quickly arrive at your home to eliminate the problem. Call (833) 3-RODENT (763368) to ask about a quote today.
"We went with Rodent Control to help with a mouse/rat that was in our basement and gnawing on all of our stuff. (Protip: don't keep dog food or treats in a basement) Sam is our POC at Rodent Control and has been great and attentive. Can text him and get a response and next steps scheduled. And they follow through. Mouse/rat was caught, hooray!"
"Rodent Control saved the day! I was mortified to have rats in my attic! I was impressed by their prompt responsiveness. From my initial phone call, their customer service has been exceptional. Both on the phone and in the field. They quickly arrived to assess the situation, and were willing to schedule service that week. The field technicians were very professional, thorough, and paid great attention to detail. They closed off all entry points, ensuring a professional and clean look. They cleaned and disinfected the attic, set traps, and arranged the date to come back and check everything. They took care to protect my carpets upon entering the house and performing work. The entire staff was very friendly and accommodating. A huge thank you to Sam and his entire team at Rodent Control!"
"I had a rat in my duplex terrifying my tenants and chewing through water lines causing a mess. Jake and his team saved the day! They sealed up every opening on the perimeter of the building, set traps and released a spray in the basement to eliminate any scent that could attract other rats. These guys don't try to set you up on a recurring monthly plan like most of the bigger corporations will do. They may not be the cheapest but they do the job once and do it right! Nice work!"